Occupational Hazards

"THIS IS NOT A BIENNIAL," said Athens Biennale codirector Poka Yio as he introduced its fourth iteration, "Agora." "It is not an exhibition."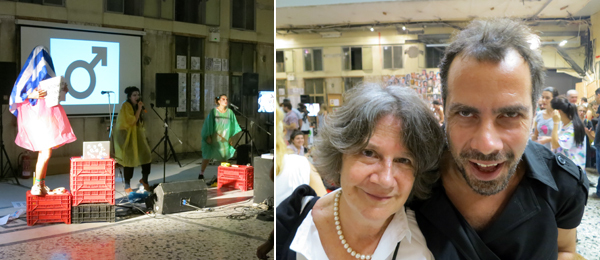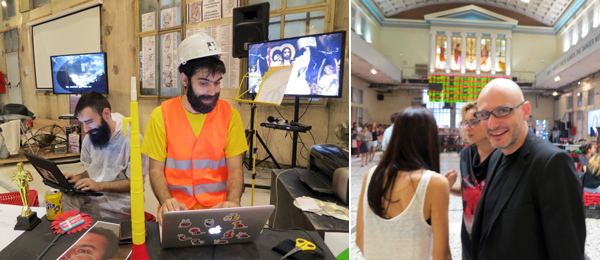 This nonbiennial nonexhibition is the result of a collective experiment carried out by a "nameless and ephemeral group of artists, curators, theorists, and practitioners," and seeks creative alternatives to a state of bankruptcy. Starting months before with weekly meetings of three teams, it ended with the occupation, fittingly, of the former Athens Stock Exchange building. The whole thing is a sort of ongoing performance: The point is, you have to be here.

The air of mystery shrouding the process, in spite of the number of people involved (some thirty curators), gave it a buzz that was enhanced and eclipsed in equal measure by current events. The day of the preview, Saturday, September 28, was dominated by widespread euphoria over that morning's arrest of leaders of the Golden Dawn party, whose neo-Nazi members had perpetuated fear and loathing on the streets, beating and killing immigrants, since their election to parliament in 2012. Spurred by the slaying of a Greek, a young antifascist rapper, that day was the first time since the demise of the dictatorship in the 1970s that MPs had been put under arrest, and seemed proof of the government's willingness to rout out corruption. "It's crazy," said curator Daphne Vitali as we dashed to the press conference on her motorcycle. "My little sister spent the night at the police station," caught up in a protest sweep the day after the killing.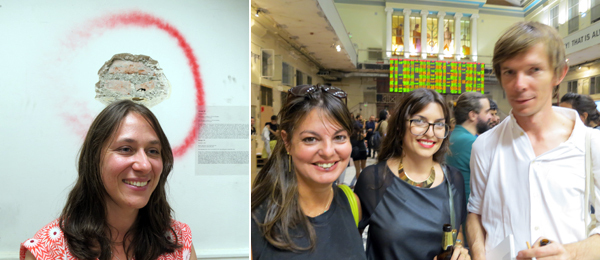 Like the Athenian agora, where classical brainstorms took place in the form of power lunches, this biennial is an open platform for discussion, with daily workshops, screenings, performances, lectures, concerts, and a forum on Sundays—a democratic takeover of an extinguished capitalist structure. Nikos Xydakis, editor in chief of Kathimerini, ignited a heated exchange when he questioned whether the public would really participate or just the usual group of hipsters. "Why do we have to be so cynical?" curator Katerina Gregos retorted.

Artist duo Fyta had already set up their "camp" in the middle of the main hall to facilitate a weeklong "Situationist burlesque," complete with a self-devotional shrine and the continuous video Quotedious, exploring boredom as a constitutive force for creativity (alongside unemployment, perhaps). Among their workshops would be "Facebook Unfriending Advice" and "The Four Types of the Neo-macho Alternative Boy"; however, "It will not be self-help," Fil Ieropoulos warned, pointing at his partner. "He is a Lacanian, so he is aggressively psychoanalytic." They would also host the opera New Greece (The Making-Of), a populist oratorio about the rise, fall, and rebranding of the nation (described by Poka Yio as "a carnivalesque orgy-parade"). "They are the worst artists, but I love them the most," said curator Mary Angela Schroth.

Across the space was DashNDem's Reaching Re-birth, a bank of videos running lectures by motivational coaches about overcoming crisis. "You know what setback does?" Wassili Zafiris asks in a soothing voice. "Setback shows you how resilient you are." Hanging above it all was June 26, 2007, artist George Harvalias's appropriation of the stock-exchange quotation board from the day it shut down, reflecting a typical pre-crisis moment.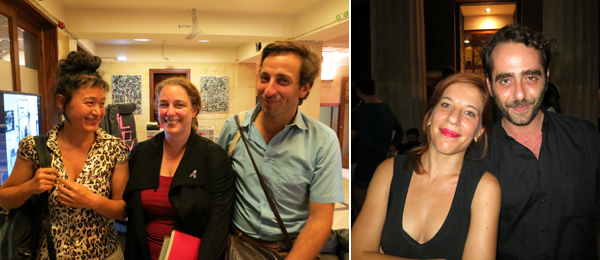 Occupying buildings certainly has its hazards: As we went up the stairs we saw a man sitting in the elevator, as if meditating. "Is it a performance?" I asked. "No, it's an accident," was the worried reply, as he awaited liberation from the stuck mechanism. The overwhelming question was whether it is really possible to evoke process in a visually alluring and educational way in the context of an exhibition—yes, exhibition! Design 99 (Gina Reichert and Mitch Cope) created a lounge displaying humorous videos about occupying and reactivating the ruins of a derelict Detroit neighborhood; alas, it didn't succeed in conveying the energy of their fantastic living experiment. On the other hand, Roman Signer's photograph Stiefel (Boots), depicting a single pair of rubber Wellingtons redirecting the flow of a river, was poetic and effective. "The whole project has a strange kind of cacophony and coherence," noted Schroth.

That evening the Guerrilla Optimists (artists Jennifer Nelson, Alexandros Georgiou, Rosina Ivanova) sat in the middle of Omonoia Square ringing bells to recalibrate the energy of the ugly cement plaza, famously populated by junkies and immigrants. We joined in on our way to the biennial, while curious passersby photographed the anachronistic scenario. "Actually there is nothing really wrong with the spirit of the place," Georgiou concluded. "We are the ones who have fucked it up." By the time we arrived at Sofokleous 10, the Athens Stock Exchange was heaving and the crowd was being served ice cream designed by Poka Yio and a new Greek beer called Z.

Fyta, dressed in construction outfits à la Devo, performed the song "Yellow Soup," and sometime later we headed to a nearby tavern with a posse including Gregos, Kunsthalle Basel director Adam Szymczyk, Kunsthalle Athena director Marina Fokidis, curator Aqua Marina, and artists Stefanos Tsivopoulos and Nikos Navridis. "It doesn't look like anybody here is in crisis," said curator Luigi Fassi, as virtuoso musicians played rousing bouzouki. Civil disobedience is another great Greek tradition, and Gregos described her own recent clash with authorities: Her proposal for an exhibition in honor of the upcoming Greece EU presidency, focusing on the artistic response to the crisis, was curtly rejected by the foreign ministry. "It didn't suit their official narrative that the crisis is over." She will curate the exhibition anyway, which will show at the BOZAR in Brussels too—just without the Greek government's stamp of approval. "We are sexy now because of the crisis," Gregos added.

On Sunday Hito Steyerl's brilliantly scary talk, "The New Flesh: Material Afterlives of Images," focused on Internet connectivity in an age where images have become actions, even weapons, and instruments of our own exploitation. Could images actually become activism? Tania Bruguera advocated art-as-activism, starting with the complaint, "Why are we still doing twentieth-century art in the twenty-first century?" Her proposal for new models of production, implementation, aesthetics, and activation for art that generates change, not just showing you stuff, was an apt instruction manual for the show as a whole.

Whereas the last biennial, "Monodrome," pondered the recent past and heralded no way out, "Agora" conveys a sense of endless possibilities, if not concrete solutions. Full of both contemporary and ancient ruins, Athens is a city in dishabille, waiting for a new identity. As artist Geof Oppenheimer observed, "Greece is at the forefront of global problematics." And there is a feeling that the country has the potential to create a new model for sustainable existence. The fact that the biennial came off with such camaraderie and cooperation—and not least of all, humor—is cause for hope. Will it spread? For now, it is just a temporary utopia in the birthplace of Western civilization.

http://www.artforum.com/diary/id=43394